North Korea threats unlikely to dissuade South from planned military drill
North Korea and South Korea have both raised the stakes in a Yellow Sea confrontation, with each side wanting to save face.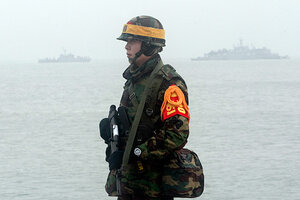 Ahn Young-joon/AP
North and South Korea have raised the stakes in their confrontation in the Yellow Sea with challenges that analysts say are making it difficult for either side to back down easily.
In the face of South Korean plans to stage a live-fire exercise from the island that North Korea hit Nov. 23 with a deadly artillery barrage, the North promises to respond with "self-defensive blows" of an "intensity and range" far greater than before.
Pyongyang's Korean Central News Agency issued the statement, attributed to an anonymous colonel, in the midst of a flurry of efforts to ease escalating tensions, including a visit to Pyongyang by New Mexico Gov. Bill Richardson.
"It's worse than a game of chicken," says Han Sung-joo, a former South Korean foreign minister who has also been ambassador to the US. "We'll have to wait it out."
---