North Korea refrains from retaliation after South Korea artillery drill
North Korea had threatened a harsh response if South Korea went ahead with military exercises in disputed waters Monday. But it could still take action, experts say.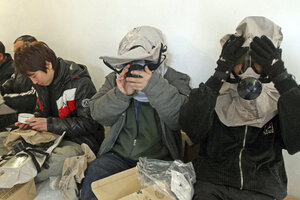 Reuters/Newsis/Korea Pool
Seoul, South Korea; and Beijing
North Korea refrained Monday from retaliating against South Korean military exercises in disputed waters, assuaging fears that hostilities between the two neighbors were on the point of spiraling out of control.
That threat has not disappeared however, cautions one expert. Pyongyang had threatened an "unpredictable self-defense blow" if South Korea's drills went ahead, points out Brian Myers, who teaches international relations at Dongseo University in Busan, South Korea. "So theoretically … the door is still open for them to retaliate further down the road," he warns.
South Korean soldiers stationed on Yeonpyeong Island staged a 90-minute artillery drill on Monday afternoon, firing shells away from the North Korean mainland and into the sea, as island residents took shelter in bombproof bunkers and South Korean fighter jets flew overhead.
A similar exercise a month ago provoked a North Korean barrage that killed two civilians and two soldiers on the island. The North Korean government had warned that if Monday's drill was carried out, its response would be "deadlier" this time "in terms of the power and range of the strike."
---