Why South Korea has agreed to six-party talks on North Korea's nuclear program
Analysts in South Korea believe President Lee's surprise call for six-party talks will bring the parties to the table since China and North Korea have both been calling in recent weeks for resumption of talks.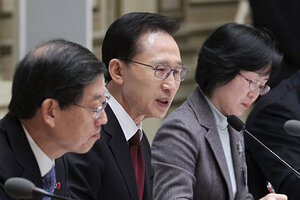 Jo Bo-hee/Yonhap/AP
South Korea promised a dramatic shift Wednesday in its approach to North Korea, holding out the olive branch of six-party talks on North Korea's nuclear program along with the prospect of reconciliation and North-South reunification.
The chances of North Korea giving an enthusiastic response to these overtures were seen as virtually nil, but resumption of six-party talks suddenly became a distinct possibility after President Lee Myung-bak declared, "We have no choice but to resolve the problem of dismantling North Korea's nuclear program diplomatically."
President Lee's remarks appeared to be the centerpiece of a carefully coordinated tactic in which South Korea's foreign and unification ministries issued statements urging a return to dialogue. Six-party talks, hosted by China, were last held in Beijing two years ago but were suspended after North Korea refused to return to the table – and then conducted its second underground nuclear explosion five months later in May 2009.
Some observers see South Korea's latest moves as initiating a peace offensive five weeks after North Korean gunners fired 270 rounds of artillery on Yeonpyeong Island in the Yellow Sea, killing two South Korean marines and two civilians.
North Korea has said the attack was in response to South Korean forces firing into disputed waters around the island, but the North held back on firing in response to a brief South Korean artillery exercise on the same island last week.
---