Gates's challenge in China: Why he's looking far beyond J-20 stealth fighters
US Secretary of Defense Robert Gates, who arrives Sunday in Beijing, seeks to put military relations on an even keel – despite recently released photos of China's J-20 stealth fighter.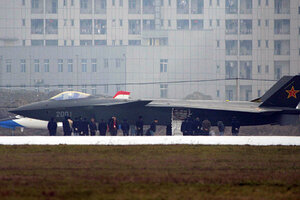 Kyodo News/AP
If US Secretary of Defense Robert Gates decides to pass the time on his flight to Beijing on Sunday by studying photos of the "stealth" fighter jet that China unveiled this week, he can draw comfort from one fact of which Beijing is all too aware.
By the time the first Chinese "Jian 20" plane makes its first operational flight sometime toward the end of this decade, the US Air Force is due to have more than 1,000 equally advanced planes in the air, and years of experience flying them.
The new Chinese fighter "will not make any difference to the balance of power for another 10 years or so," says Ted Galen Carpenter, a defense expert at the Cato Institute in Washington. "But psychologically and symbolically it's important."
"America keeps looking over its shoulder and sees China gaining," Dr. Carpenter adds. "The gap is still there, but it is getting smaller."
In three days of meetings with Chinese civilian and military leaders, Mr. Gates is unlikely to raise US concerns about any particular Chinese weapons system. Instead, he will seek to finally put US-Chinese military relations on an even keel.
Beijing has suspended its contacts with US military officers for two of the past three years to protest US arms sales to Taiwan, which the Chinese regard as a renegade province.
---