What's causing the Australia flooding
The Australia flooding is partly a result of the La Niña weather pattern, which cools surface ocean temperatures and usually brings increased precipitation to eastern Australia.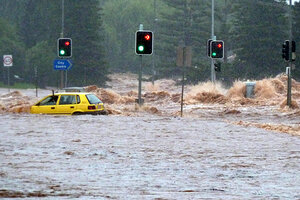 Tomas Guerin/Reuters
What's the primary cause of the Australia flooding, which now covers an area the size of France and Germany combined and has caused an estimated $6 billion in economic damage? The La Niña ocean-atmosphere phenomenon in the Pacific.
During El Niño, sea surface temperatures become warmer than normal. During the lesser-known weather pattern of La Niña, sea surface temperatures become cooler than normal.
Although La Niña is a regular event that climatologists saw coming months in advance, it would be a mistake to think its arrival allows climatologists to predict specific weather events, says Rupa Kumar Kolli of the United Nations World Meteorological Organization.
Both El Niño and La Niña are naturally occurring events that represent extremes in weather and occasionally wreak havoc on human population centers. Australia and Indonesia often see drought during El Niño, while La Niña typically causes higher rainfall there.
"In a general climatological sense, La Niña is always associated with very active rainfall conditions," Dr. Kolli, chief of the World Climate Applications and Services Division, says in a telephone interview from Geneva. "But it won't tell you exactly at what time of the season there will be very heavy rainfall. It helps people at being prepared, but you cannot use that information to take specific action in terms of a specific flood event."
Moreover, he says, La Niña is only one of the many contributors to the heavy rain now hitting eastern Australia.
---