Gates: nuclear talks possible if North Korea stops 'dangerous provocations'
Defense Secretary Robert Gates was in Seoul Friday for a meeting with South Korean President Lee, who stressed the need for US cooperation to solve the North Korean nuclear issue.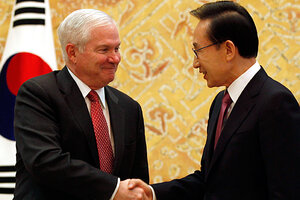 Larry Downing/AP
US Defense Secretary Robert Gates today hinted that Washington might be willing to renew nuclear talks with North Korea without preconditions.
On Friday, before meeting here with South Korean President Lee Myung-bak, Secretary Gates said talks with North Korea were possible if the North ceased "dangerous provocations" and took "concrete steps" to meet its obligations.
"We could see a return to the six-party talks" whenever North Korea gave reason to believe that negotiations could be "productive and conducted in good faith," he said. Six-party talks were last held in Beijing in December 2008.
While Gates's comments may have appeared strong, they did not include a clear call for North Korea to give up its nuclear program as a prelude to renewing six-party talks, which North Korea has called for "with no preconditions."
However, South Korea has rejected the notion of returning to talks without preconditions. On Friday, Mr. Lee called for US "cooperation" on the North Korean nuclear issue.
Gates's aims in Asia
---