Step toward peace? South Korea agrees to talk with North Korea.
The timing is widely interpreted in South Korea as a dividend of Chinese pressure to ease tensions on the Korean peninsula – and the meeting this week between President Obama and Chinese President Hu Jintao.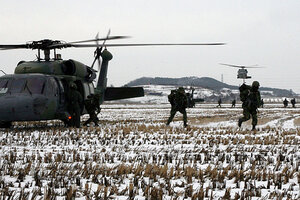 South Korean Army via Yonhap/AP
North Korea and South Korea are apparently on their way to talking again.
Hours after President Obama and China's President Hu Jintao called for "sincere and constructive inter-Korean dialogue, North Korea's highest defense official messaged South Korea's defense minister proposing talks on "military issues."
The North Korean message and South Korean response do not necessarily mean a breakthrough, say analysts here, but they represent another step away from the atmosphere of confrontation and brinksmanship after the bombardment of Yeonpyeong Island in November.
The message
The message, according to South Korea's Unification Ministry, indicated North Korea's willingness to discuss such "provocations" as the shelling of the island and the sinking of a South Korean Navy ship in nearby waters in March. All told, 50 people died in those attacks – two Marines, two civilians on the island, and 46 sailors on the ship.
---