After battling Australia floods, waterlogged citizens now fight insurers
Many whose homes and businesses were affected by the Australia floods are finding that the fine print in their insurance policies rules out coverage.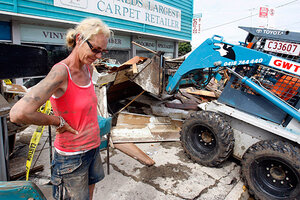 Mick Tsikas/Reuters
When is a flood not a flood? For Australians tackling a clean-up of "post-war proportions" from more than two months of devastating floods, it depends on your insurance policy.
After battling floodwaters that inundated Australia's eastern coast – swallowing towns, damaging properties and infrastructure, wiping out crops and livestock, and killing 32 people in the state of Queensland – some here are now finding themselves in a fight over insurance coverage.
A number of residents in Queensland's riverside capital Brisbane, who watched helplessly as the Brisbane River burst its banks and engulfed their homes, are seeking legal advice after being told the flood clause in their insurance policy only covered stormwater damage, not "river inundation."
So who foots the bill for the flood damage? Prime Minister Julia Gillard is eying the wealthy, on Thursday introducing a one-time tax on the middle- and upper-class to help cover what she said would be a $5.6 billion damage bill. Now, as Australians roll up their sleeves and begin putting their homes and businesses back in order, a fight is brewing between tax payers, flood victims, the government, and insurance companies.
Not all water is equal
This is just the beginning. As all that insurance policy fine print finally sees the light of day, many flood victims are finding that not all waters are treated equally. Some policies only cover damage from water that has overflowed from "natural watercourses." Property owners waist-deep in water that spilled over from reservoirs, dams, canals, or other manmade waterways need not apply.
---