Cyclone Yasi roars toward Australia's waterlogged Queensland
Forecasters are cautiously optimistic that Yasi will not drop the majority of its rain on Queensland's already hard hit areas. The state is still cleaning up from devastating floods.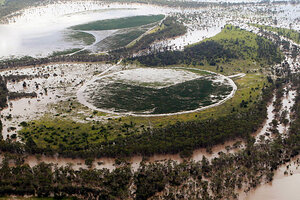 Daniel Munoz/Reuters
Australia's waterlogged northern state of Queensland just can't seem to get a break, but its citizens appear to be taking it in stride.
Still cleaning up from devastating floods that killed some 32 people, residents along a wide swath of Queensland's north coast are now being told to brace themselves for what may become the largest cyclone the "sunshine state" has ever faced.
Cyclone Yasi is expected to slam into the Queensland coast around 1 a.m. Thursday local time, packing winds of more than 250 k.p.h. (155 m.p.h.). This puts it on a par with the force of Hurricane Katrina, which devastated New Orleans in 2005 and clocked winds of 175 m.p.h., before weakening as it neared the coast.
A coastal warning has been declared for residents living between Cooktown and Sarina, an area that takes in major population, tourism and agricultural centers, including Cairns. Some 250,000 people are likely to be affected by the cyclone.
"This storm is huge and life threatening," Queensland Premier Anna Bligh said on Tuesday. "I know many of us will feel that Queensland has already borne about as much as we can bear when it comes to disasters and storms, but more is being asked of us. I am confident that we are able to rise to this next challenge."
---