Website editor's trial in Thailand a test case for media freedom
The editor of the popular Thai website Prachatai.com faces up to 50 years in jail for hosting comments that the government charges undermine national security.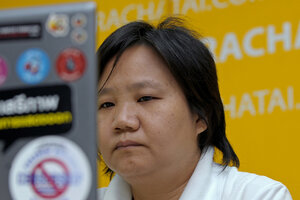 Pornchai Kittiwongsakul/AFP Photo/Newscom
In a closely watched test case for media freedom in Thailand, a website editor went on trial Friday over antimonarchy comments posted on a Web forum. Under Thailand's tough cybercrime law, website administrators can be held liable for hosting illegal content, including material that undermines national security.
If found guilty on 10 counts, Chiranuch Premchaiporn, the editor and webmaster of Prachatai.com, faces up to 50 years in jail. She denies the charges and says that she cooperated with government requests to remove offensive postings. A verdict in the trial is expected by early April.
A close US ally, Thailand was once seen as an outpost of media freedom in Southeast Asia. But its reputation has fallen sharply in recent years. Crackdowns on political street protests have been accompanied by increased restrictions on online media, with tens of thousands of websites blocked by court order or under emergency military rule.
Media-freedom activists say Ms. Chiranuch's case is part of this broader trend of censorship and has helped to chill online debate. Prachatai closed its online forums last year and other popular sites have either closed forums or restricted the use of anonymous comments. Web operators argue that it's impossible to screen real-time comments for illegal content.
---