Thailand-Cambodia clashes continue, but Bangkok insists mediation 'not necessary'
Calls for intervention have met firm rejections from Bangkok, even as Thailand-Cambodia clashes that have already killed 10 people continued into their fourth day.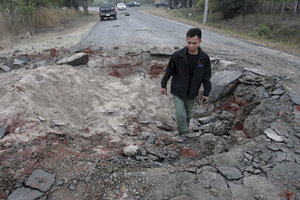 AP Photo
As fighting between Thai and Cambodian troops along a disputed land border entered a fourth day, Indonesia's foreign minister flew Monday to Cambodia for crisis talks. At least 10 people have died since clashes began Friday, forcing the evacuation of thousands of villagers on both sides of the border.
While the US and other countries have urged restraint by both sides, Cambodia has asked the United Nations to act over what it calls "flagrant aggression" by Thailand. UN Secretary General Ban Ki-moon said in a separate statement that he was "deeply concerned" by the violence and that the UN stood ready to assist.
But calls for outside intervention have been met with firm rejections by Thailand, which has repeatedly insisted that bilateral talks are the best way to resolve the crisis. "We feel that mediation by outside parties is not necessary," says Thani Thongpakdi, a spokesman for Thailand's Foreign Ministry.
---