Why Kim Jong-il wished Egypt's Mubarak a Happy New Year
Egypt has counted on North Korea for military aid. The biggest mobile phone company in the Middle East is also one of North Korea's largest investors.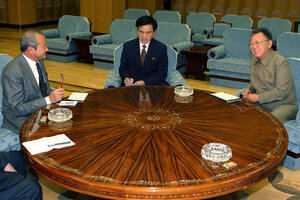 Korean Central News Agency via Korea News Service/AP Photo
North Korea's leader Kim Jong-il sent a new year's greeting to Egyptian President Hosni Mubarak, Pyongyang's Korean Central News Agency reported over the weekend, confirming the closeness of four decades of military and commercial ties.
Mr. Kim offered the greeting to Mr. Mubarak on the occasion of the lunar New Year, celebrated last week in North and South Korea as well as China and Vietnam, amid fast-growing protest in Cairo against Mubarak's rule.
The greeting was seen here as evidence of North Korea's decades of support.
"This message means Kim Jong-il endorses Mubarak's power or administration," said the Daily NK, a South Korean website that closely monitors events in North Korea. "It reflects the strong relationship formed between Mubarak and Kim Il-sung," Kim Jong-il's father, who ruled the North for nearly half a century before dying in 1994.
North Korea and Mubarak
North Korea over the years has trained Egyptian pilots, sold missiles to Egypt, provided the technology for Egypt to fabricate its own missiles, and turned its embassy in Cairo into the hub for military sales throughout the region.
---