Thailand offers safety net to informal workers to boost economy
Proponents say that a safety net in the form of social insurance for Thailand's informal workers – including taxi drivers, food vendors, garbage recyclers – could ease social tensions in a politically polarized nation.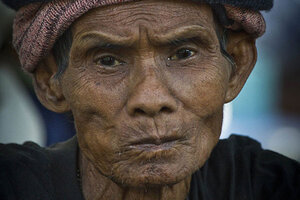 David Longstreath/AP
Taxi drivers, food vendors, and garbage recyclers are essential elements in cities like Bangkok. But these workers rarely appear on payrolls or qualify for state benefits. In most developing countries, they feed into a vast informal economy that generates more jobs than the formal economy.
Thailand is now taking steps to extend state protection to informal workers, setting an example for other countries grappling with rising social demands.
More than 2 million workers have been offered the chance to join a new social insurance program that provides sick pay, life insurance, and a pension. Taxi drivers can also apply for state bank loans to buy their vehicles. Eventually the benefits may be extended to 24 million Thais, or 60 percent of the total workforce, who lack formal employment.
Proponents say that providing a safety net for these workers is a way to share economic spoils and ease social tensions in a politically polarized nation, as Tens of thousands of antigovernment demonstrators rallied in Bangkok Sunday, following bloody clashes with security forces in April and May of 2010.
"People outside the formal economy get no access to social security. Now we're giving it to them," says Sungsidh Piriyarangsan, an economics professor and adviser on the plan.
A pro-poor political move?
Critics say the policy smacks of electioneering as Prime Minister Abhisit Vejjajiva prepares to call polls by year-end. His government faces a strong challenge from allies of former Prime Minister Thaksin Shinawatra, who wooed Thai workers with microcredit, subsidized health care, and other pro-poor policies. He was ousted by a military coup in 2006.
---