UN urges Cambodia-Thailand cease-fire, but will it happen?
The clashes between Cambodia and Thailand in the past month have killed at least eight, displaced thousands, and damaged the World Heritage-listed Preah Vihear temple. The UN says it must stop.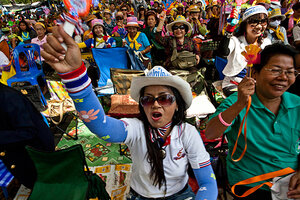 David Longstreath/AP
The UN Security Council has called on Thailand and Cambodia to show "maximum restraint" in a deadly border dispute. But the UN statement will likely do little to resolve tensions between the two countries, which recently clashed violently and have been trading rhetorical barbs while ramping up their military presence along disputed sections of the border.
The conflict centers around Preah Vihear temple, an 11th-century structure near a piece of land claimed by both countries. But the conflict highlights tension along other sections of the border.
A Cambodian court recently convicted two Thai leaders of the "Yellow Shirt" protest movement on espionage charges, and handed out suspended sentences for "illegal entry" to five others who were later released. The group crossed into Cambodian territory in Banteay Meanchey Province while "investigating" demarcation at a contentious section of the border with troops massed on both sides.
Local media here reported Tuesday that families are fleeing coastal villages in Koh Kong province, where it is rumored that the Thai Navy is deploying ships around a disputed, oil-rich marine section of the border. Military and government officials said they had no evidence of a naval buildup.
---