North and South Korea: Path to six-party talks rocky, but still open
Without six-party talks, there will be no opportunity to dissuade North Korea from testing another nuclear device. The US is trying to keep the conversation open.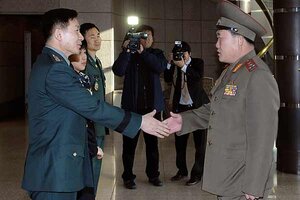 Defense Ministry/AP
The path away from recent violence and toward negotiations on the volatile Korean peninsula is proving rocky and uncertain, but it is still open.
The first tentative steps at reconciliation since North Korean artillery shells killed four South Koreans last November have, so far, gone nowhere. This month's highly anticipated talks between military officers, designed to pave the way for a high level military meeting, ended after two days, when Pyongyang's delegation walked out.
The stakes are high. Without talks, inter-Korean relations will remain on ice, there will be no opportunity to dissuade Pyongyang from testing another nuclear device, and US diplomats say they see no point in resuming broader international negotiations to persuade North Korea to abandon its nuclear weapons program.
Thus, "the US is trying to work with China to aid North Korea and to keep the conversation open, so eventually President Lee Myun-bak's government will follow this path because it has no other choice," says Park Jie-won, leader of the opposition Democratic Party's forces in the National Assembly.
The impediment to progress? A standoff between North and South Korea over Seoul's insistence that in any negotiations Pyongyang must acknowledge and apologize for sinking a South Korean naval vessel last March and for shelling the island of Yeonpyeong in November.
---