As protests spread across the Middle East, China keeps a firm hand on protests at home
A small Internet posting in China triggered a massive response from the state this week, highlighting just how concerned the government is that citizens might be inspired by protesters in Egypt, Libya, or at home.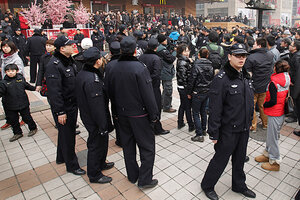 Andy Wong/AP
Few people in China have even heard about the Middle East upheavals that started with Tunisia's so-called Jasmine Revolution last month. But the authorities are taking no chances here, clamping down before major protests are able to take shape.
At least four people have been arrested in China on charges of "inciting subversion of state power," after reposting Internet messages calling for the launch of a Jasmine Revolution here, according to the Hong Kong-based Information Center for Human Rights and Democracy.
Dozens of activists have been detained or put under house arrest by Chinese police since last week, and several others simply disappeared in the days leading up to last weekend's planned protests.
The Chinese government, always on the lookout for challenges to its rule, is particularly concerned about mass movements that threaten to link together the grievances of disparate groups or coordinate protests on a national level. While state media has been quick to dismiss the chances of a Middle East-style uprising in China, the extent to which state security agencies have mobilized to neutralize potential threats and disrupt planned demonstrations suggests that the Communist Party leadership is taking no chances.
Activists are picking up on this nervousness. Even though initial protests held on Feb. 21 fizzled, a new statement appeared on Boxun, a US-based Chinese language website, which is blocked in China, calling for the continuation of demonstrations this coming weekend and doubling the number of cities with planned protest sites.
---