New Zealand earthquake rescue efforts now in full swing
With the New Zealand earthquake death toll now at 98, authorities have mounted the country's largest-ever rescue operation in a bid to save as many of the 226 missing people as they can.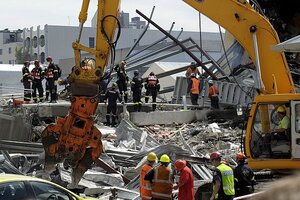 Rob Griffith/AP
Since Tuesday's 6.3 magnitude earthquake leveled New Zealand's second-largest city, Christchurch, officials have been scrambling to mount what has become the largest search-and-rescue operation in the South Pacific nation's 170-year history.
Other countries have been quick to pitch in, too.
The US was among the first nations to dispatch a team to help with building searches and structural inspections. The 75-strong American contingent has since been joined by more than 320 international rescue workers drawn from Australia, Britain, Japan, Singapore, and Taiwan, working alongside some 1,100 local army personnel.
---