Japan earthquake: Authorities race to avert nuclear crisis at second reactor
Tokyo Electric Power Co. (TEPCO) said the No. 3 reactor at the Fukushima Daiichi power plant is now experiencing a partial meltdown after losing its cooling functions.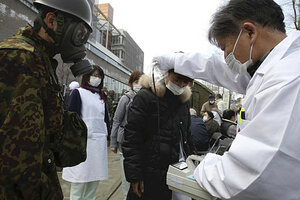 Yomiuri Shimbun/Reuters
A frantic effort is under way in Japan to avert a nuclear crisis after officials warned on Sunday that hydrogen inside a second reactor at an atomic power plant damaged by Friday's 8.9 earthquake was at risk of exploding.
Tokyo Electric Power Co. (TEPCO) confirmed that the Fukushima Daiichi power plant's No. 3 reactor had lost its cooling functions, possibly leading to a partial meltdown similar to the one yesterday at the plant's No. 1 reactor.
The Saturday explosion at the No. 1 reactor blew the roof of of its outer building, releasing small amounts of radiation into the air. Authorities said that a similar fate could await the plant's No. 3 reactor today. But they have been quick to stress that the levels of radiation released are not dangerous to people.
The government's top spokesman, Yukio Edano, said Sunday that radioactivity levels near the Daiichi plant and the nearby Fukushima Daini plant, where three more cooling systems for reactors have failed, posed no threat to human health.
Still, he could not rule out the possibility of a second explosion. "At the risk of raising further public concern, we cannot rule out the possibility of an explosion," Mr. Edano said. "If there is an explosion, however, there would be no significant impact on human health."
Nuclear emergency
TEPCO described the situation at the plant as an emergency, while the accident was placed at level four on an international scale of zero to seven. The firm said the No. 1 reactor had partially melted – the first time this has happened in Japan – adding that it was continuing efforts to cool the reactor.
---