Japan's nuclear evacuees wonder if they'll ever see home again
More than 200,000 people have been ordered out of an area within a 12-mile radius of the Fukushima Daiichi nuclear power plant, where two reactors have gone into partial meltdown.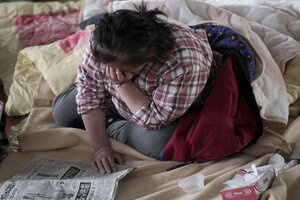 Yuriko Nakao/Reuters
The first Yoshiko Watanabe heard there might be a problem at the Fukushima Daiichi nuclear power plant where she works as a cleaner was early on Saturday morning. The community radio that the municipal authorities had installed a month earlier in her home came on unexpectedly at around 8 a.m. local time.
"It said we had to go to the town hall to evacuate because there was trouble at reactor No. 1," she recalls. "I left with just my purse and the clothes I was wearing."
Now, Mrs. Watanabe and 1,250 others from her home town of Narahama are sleeping on the floor of classrooms in a junior school here, 20 kilometers (12.5 miles) away, unsure if they will ever live in their homes again.
"Sometimes I wonder, but I try not to think like that," she says, her eyes moist, standing in the school entry hall amid piles of cartons of food, clothes, blankets, and water.
More than 200,000 evacuated
The Narahama evacuees huddled in blankets on the floor, including a score of patients from an old peoples' home, are among the more than 200,000 residents ordered out of an area within a 20 kilometer (12.5 mile) radius of the Daiichi facility, where two reactors have gone into partial meltdown, according to the government, in the wake of Friday's massive offshore earthquake and subsequent tsunami.
Their mood is one of shock and resignation.
A third of Narahama families have someone employed at the nuclear power plant says Makoto Mizenoya, whose mother works in the canteen there. "We never ever expected anything to go wrong," she says.
Caught off guard
The Narahama authorities had no plan to cope with such a disaster says Hiroshi Suzuki, a weary local official and community organizer whose stubbled chin betrays the fact that he has not been home since the tsunami struck.
---
Follow Stories Like This
Get the Monitor stories you care about delivered to your inbox.