Another earthquake shakes Japan, Fukushima evacuated: a nuclear timeline
A month after the March 11, a 9.0 earthquake triggered a 30-foot tsunami that damaged several nuclear reactors in northeastern Japan, causing the country's worst crisis since World War II, a 7.4 temblor shook the country again.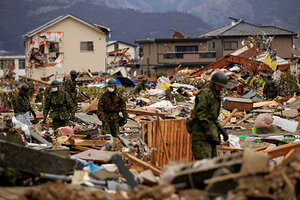 Matt Dunham/AP
Day 1 – Friday, March 11
At 2:47 p.m. local time, Japan is struck by the largest recorded earthquake in its history off the coast of the northeastern city of Sendai. Meteorologists log it at 8.9 on the Richter scale.
11 nuclear reactors shut down automatically.
A powerful tsunami triggered by the earthquake sweeps away cars and homes and knocks out regular and backup cooling systems at the six-reactor Fukushima Daiichi nuclear power plant. Several reactors are affected.
The government orders everyone within a three kilometer radius of the plant to leave the area.
Japanese authorities report that a fire at the Onagawa nuclear power plant is extinguished.
Day 2 – Saturday, March 12
A blast caused by a pressure buildup blows the roof off the containment structure of the Fukushima Daiichi plant's Unit 1 reactor, but reports say the nuclear fuel rods are not affected. Four workers are reported injured.
Residents within a 6-mile radius of the plant are evacuated. Kyodo news agency estimates that 20,000 people are being evacuated.
Workers begin injecting seawater and boric acid into the reactors in what experts say is a last-ditch attempt to prevent a meltdown after the backup cooling systems for reactors 1 and 3 fail completely.
---