As Japan nuclear crisis unfolds, a small town questions government reassurances
Few in Japan, however, are placing blame for the unraveling nuclear disaster directly on the Democratic Party of Japan, which has wrestled with crises since taking over from the Liberal Democratic Party in 2009.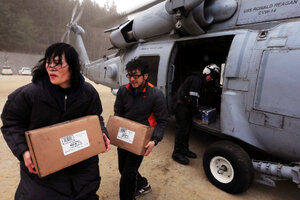 Alexander Tidd/US Navy/AP
Shingu, Wakayama Prefecture, Japan
Five days after a magnitude 9.0 earthquake and subsequent tsunami devastated the northeastern coast of Japan, the Japanese government is struggling to contain an escalating nuclear crisis – even as it continues to assure the public that those beyond the troubled plant's immediate periphery are safe.
But in a quiet fishing and forestry region some 550 miles south of the overheating reactors, citizens are beginning to doubt those claims.
"I don't know what to believe. Radiation has already been detected in Tokyo and I think it will eventually reach us, too," says Anri Sumi, a health center clerk in the town of Shingu, Wakayama Prefecture, where business as usual has otherwise resumed. Many townspeople echoed her concerns.
The crisis at the Fukushima Daiichi nuclear plant appeared to worsen on Wednesday as white steam billowed from one of the reactor buildings and the government announced a second fire in reactor No. 4 and that a vessel containing fuel rods was likely damaged. Three other reactors at the plant were also in critical condition, and reactors No. 4 and No. 5 are being carefully watched. Meanwhile, nearly half a million tsunami and earthquake survivors remain in need of food, water, and other basic supplies.
---