Japan nuclear crisis sparks calls for IAEA reform
'We need to overhaul IAEA,' says Najmedin Meshkati of University of Southern California, repeating a call that is gaining traction amid the Japan nuclear crisis.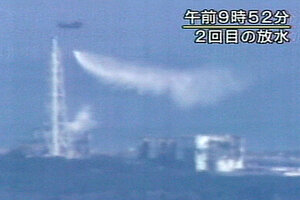 NHK TV/AP
The Japan nuclear crisis has exposed an industry that lacks sufficient oversight, say some scientists, leading for renewed calls to redefine the mandate of the UN nuclear watchdog so that it can better police nuclear power plants worldwide.
It's something that Najmedin Meshkati has highlighted for more than two decades. Now, his call to reform the United Nations' International Atomic Energy Agency (IAEA) to better monitor nuclear power worldwide is getting new attention.
"We need to overhaul IAEA," says Dr. Meshkati of University of Southern California, Los Angeles, who has visited Chernobyl's nuclear accident site and studied nuclear plants and emergency responses worldwide, including in Japan.
Explosions or fires have hit three of the six reactors at the Fukushima Daiichi nuclear power plant (also known as Fukushima I), in addition to a fire at a spent fuel storage pond, a crisis begun when a March 11 earthquake and tsunami knocked out electricity at the plant. On Thursday, helicopters and military trucks began dumping cooling water on the spent fuel pond to cool the overheating nuclear rods.
---