After earthquake, Japan asks how a nation prepares for the unimaginable
Japan has been widely praised for its disaster readiness, but the magnitude 9.0 earthquake has the country asking how it can be better equipped to handle the next big one.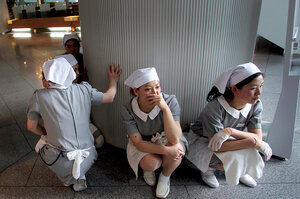 Itsuo Inouye/AP
Mihama, Mie Prefecture, Japan
Fumie Sugiuchi lives so close to the beach that she can watch the moon rise over the Pacific Ocean from the second floor of her house, about eight hours by car southwest of Tokyo. But until a massive earthquake hit northern Japan on March 11, the retired elementary school teacher said she never took the threat of a tsunami seriously.
"We always thought we'd be fine here. After watching the footage from the north, I think that was a mistake," says Ms. Sugiuchi, holding up a neatly folded – and unused – emergency supply bag that the town government distributed, along with a list of what should go in it, nearly 20 years ago.
Japan has been widely praised for its thorough disaster preparedness and advanced earthquake prediction technology. One week ago, however, a magnitude 9.0 earthquake triggered a devastating tsunami that has resulted in a nuclear crisis, far exceeding the hazard estimates that inform disaster management plans.
Now, as Japan struggles to help hundreds of thousands of displaced victims and prevent a nuclear meltdown at the same time, Japan is asking a new question: How can a nation prepare for the unimaginable?
"We're going to have to change almost everything [related to disaster planning]," says Manabu Hashimoto, an earthquake scientist at Kyoto University's Disaster Prevention Research Institute.
State of readiness
---