GE defends reactors in Japan nuclear crisis
The Japan nuclear crisis has brought scrutiny on GE, but the world's biggest nuclear-equipment supplier has maintained that its containment vessel design is reliable.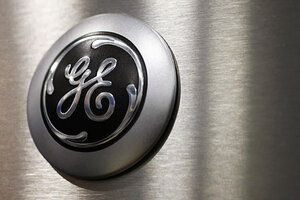 Paul Sakuma/AP/File
As General Electric defends the reactors it designed for Japan's Fukushima Daiichi nuclear power plant, independent nuclear specialists are also coming to the company's defense amid the nuclear crisis.
Five of the six reactors at Fukushima I are GE's so-called Mark I boiling water reactor models, developed in the 1960s and installed in Japan in the 1970s.
"I think GE should really be saluted for their design of the reactors," says Najmedin Meshkati of the University of Southern California, Los Angeles, a nuclear safety expert who has studied power plants worldwide, including at Chernobyl and in Japan. "[The crisis] really hasn't been a problem with the reactor design."
Japan's nuclear crisis: A timeline of key events
The most pressing issue now at the plant is a possible crack in a spent fuel pool, which sits above the reactor containment vessel and was damaged during explosions earlier this week. The containment vessels that hold the actual nuclear reactors, meanwhile, appear to have largely withstood a 9.0-magnitude earthquake, a 30-foot tsunami, explosions, and fires.
"I think GE is a hero in this," says Dr. Meshkati.
---