Workers evacuated from Japan nuclear plant, again
But workers made progress over the weekend on restoring electricity to the cooling system at Japan's Fukushima nuclear power plant, which will help stabilize overheated reactors.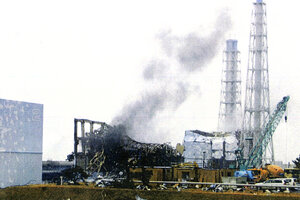 Tokyo Electric Power Co. via Kyodo News/ AP
Workers were temporarily evacuated from the Fukushima Daiichi nuclear power plant in northern Japan today as gray smoke billowed from the plant late Monday afternoon.
The smoke was seen above building No. 3 just before 4 p.m., plant operator TEPCO said.That unit houses a spent fuel storage pool that was thought to have been nearly dry late last week, and has been the focus of an intense round the clock water-spraying operation over the weekend in an effort to cool it.
Today workers alternated between injecting water into the equally volatile No. 4 spent fuel pool and working to restore electricity to the plant's normal cooling system.
Before the evacuation this evening, workers had made progress to stabilize the overheated reactors and fuel storage pools at the plant over the weekend. In the afternoon Prime Minister Naoto Kan issued a cautiously encouraging statement regarding their progress.
"We haven't yet escaped danger, but we're starting to see a ray of hope that we'll be able to escape," he said.
Where is the electricity?
The March 11 earthquake and tsunami knocked out electricity supplies that power cooling and control systems at all six units at Fukushima. Authorities reported that workers were close to connecting power supplies to the six units late last week to restore cooling and control systems.
---