Their life revolved around Fukushima. Now, they vow patience.
Closely tied to Japan's Fukushima Daiichi nuclear plant and loyal to their company town, the Ouchi family wants only to go home. But officials are now urging the evacuation of anyone within 19 miles of the plant.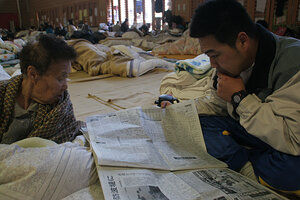 Erico Waga/Special to The Christian Science Monitor
When the earthquake struck Japan at 2:46 pm on March 11, Masaru Ouchi, an electrician who was just putting his tools back after a routine maintenance job at the Fukushima Daiichi nuclear plant, knew exactly what to do.
He dropped everything, he recalls, ran to a prearranged assembly point outside the plant's administrative offices, and helped his boss count fellow workers. When they were all checked in he jumped into his car and drove to the school.
His father, Mitsuo, a plasterer working elsewhere in the reactor complex, fled immediately. He stopped at his home nearby to pick up his wife and mother-in-law, then drove to find his son.
As the family sheltered in the dark, cold school that night with hundreds of their neighbors, none of them knew that a massive tsunami had knocked out critical cooling systems at Fukushima Daiichi, just a few miles down the road.
The mainstay of their town, Okuma, was about to go into near meltdown, and their lives with it.
Japan Fukushima nuclear crisis: A timeline of key events
The death toll from the earthquake and tsunami is expected to rise above 20,000. Nearly half a million people have lost their homes or been displaced. Some 210,000 homes still have no electricity, and close to 1 million households are without water. In the quake zone, food is short and gasoline still hard to come by.
Officials today expanded the evacuation area around Fukushima from 12 to 19 miles, urging residents to leave voluntarily. The nuclear crisis remains "unpredictable," Prime Minister Naoto Kan said today.
---