How Japan's Fukushima crisis will affect Asia's No. 2 nuclear power: South Korea
At stake is South Korea's dream of running much of the country's economy on nuclear power – and exporting that technology to emerging global markets.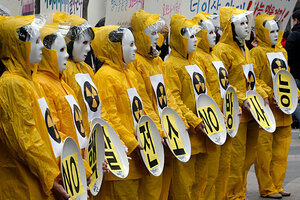 Ahn Young-joon/AP
The nuclear crisis that crippled the Fukushima Daiichi nuclear power plant on March 11 has sent a tremor through South Korea's nuclear program, the second largest in Asia after the Japanese.
"We are doing stress tests," says Lee Jin-ho, director of international cooperation at the Korea Institute of Nuclear Safety. "We are checking safety. We are doing all kinds of evaluation and experiments."
At stake is the future of South Korea's dream of not only running much of the country's huge and growing economy on nuclear power but also of exporting nuclear reactors to clients around the world.
As Korea adds five nuclear reactors to the 21 it already has and builds its first four reactors for export, the need for enhanced safety assumes paramount importance. Since putting its first reactor on line in 1978, Korea has come to rely on nuclear energy for 40 percent of its electrical needs and aims to have nearly 60 percent of its electrical power come from nuclear energy by 2020.
---