Pakistan attacks reveal widening split between religious parties and militants
Successive, yet unsuccessful assassination attempts on Maulana Fazl ur Rehman of the group Jamiat Ulema-e-Islam-Fazl show Islamic militants' growing disdain for even sympathetic political leaders.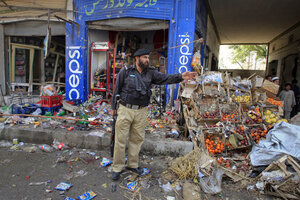 Fayaz Aziz/Reuters
Two assassination attempts in so many days on the life of a key Islamist leader here appear to represent a strong message from militants: even sympathetic politicians aren't safe.
Maulana Fazl ur Rehman of the powerful, hard-line group Jamiat Ulema-e-Islam-Fazl (JUI-F) survived Thursday's suicide bombing at a rally in the northwestern town of Charsadda, but the attack left 12 dead and 29 injured. He also walked away from an attack on his convoy Wednesday.
Pakistan's religious parties have been vocal in their opposition to the United States and to progressive domestic policies, such as reforming the blasphemy law, which critics say are used to target religious minorities. But that's not always enough to shield them from attacks from more hardcore groups like the Pakistan Taliban, says retired Gen. Talat Masood, a security analyst.
Many have accused the Pakistan Taliban for the attacks, but no group has yet claimed responsibility.
While the back-to-back bombings demonstrate a gulf between Pakistan's mainstream religious parties and more hard-line militants, who are inherently opposed to the political process, they may have also resulted from specific doubts about the sincerity of Rehman's promises to extremists that he's on their side, say experts.
"I think [militants] consider him to be playing a double game and think he's not truly for them. While he says he supports them, they think he has no principles and no ideology per se and exploits both sides to his personal advantage," says General Masood.
Speaking to Pakistan's Geo Television after the attack, Rehman said: "I am fine, [the] blast damaged my jeep and some soldiers in my convoy are injured." He had been due to address a public meeting in Charsadda. On Wednesday, his convoy was attacked while en route to a political rally in Swabi, some 30 miles north of Islamabad.
---