China's sympathetic response to Japan's crisis eases tensions
Japan's quake, tsunami, and nuclear crisis have eased China-Japan tensions heartens many, but flash points remain.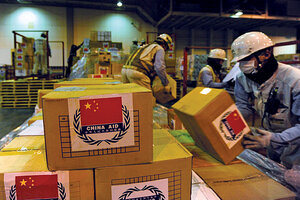 Ji Chunpeng/Xinhua/Sipa Press/Newscom
Behind the often raucous chatter on the Chinese Internet, a steady drumbeat of anti-Japanese sentiment has long provided insight into one of the strongest currents of local public opinion.
Now, that has changed. In the wake of the earthquake, tsunami, and nuclear emergency that struck Japan on March 11, the public mood here has shifted dramatically. If that lasts, say some observers, it could boost chances for a deeper rapprochement between the traditional rivals.
"The tone online has changed from cursing the Japanese people and government to expressing sympathy and support," says Zhou Yongsheng, a Japan expert at the China Foreign Affairs University in Beijing. "I am really surprised."
The change was not immediate. Initial reactions reflected the standard, sometimes brutal, views that Chinese commonly express toward Japan.
"I hope this happens to you on the same day every year," wrote one anonymous commentator on Mop.com, which hosts one of China's most popular chat rooms. "This is a great birthday present," wrote another.
Humane response to an old foe
---