Japan earthquake today: Tsunami warning lifted, but Fukushima evacuated
A magnitude 7.1 earthquake shook northeast Japan late Thursday. A tsunami warning was issued, then lifted for the coast, already devastated by last month's massive quake and the tsunami that crippled the Fukushima nuclear power plant.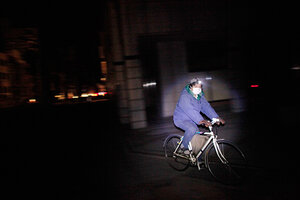 Carlos Barria/Reuters
A magnitude 7.1 earthquake struck off the coast of Japan's Miyagi Prefecture – the region worst affected by the huge March 11 quake and tsunami – at 11:32 p.m. local time on Thursday. Evacuation orders were issued for hundreds of homes along the northeast coastline.
Tsunami advisories were immediately issued, but were lifted approximately one hour later. The quake is the strongest of the hundreds of aftershocks that have shaken Japan since the magnitude 9.0 temblor on March 11. That earthquake caused a tsunami that destroyed thousands of homes, displaced nearly a half million people, and severely crimped the iconic fishing industry there.
The center of the earthquake was 40 kilometers below the seabed, about 60 miles east of the city of Sendai and about 90 miles from Fukushima, according to Japan's Meteorological Agency.
Tokyo Electric Power Company (Tepco) says that the quake hasn't caused any further damage to the Daiichi nuclear power plant and that all the workers have been temporarily evacuated from the facilities. There were no injuries reported.
---