Japan's fishermen struggle to stay afloat amid fish bans, radiated water releases
The discovery of fish carrying high levels of radioactive materials off the Pacific Coast is stoking concerns about the viability of Japan's seafood industry.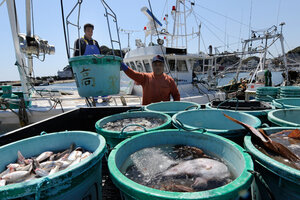 Toru Yamanaka/AFP Photo/Newscom
Japan's fishing industry, already reeling because of the tsunami that damaged tens of thousands of boats, nets, equipment, and harbors along its northeast coast, is having to deal creatively to stay afloat as radiation-contaminated water is discharged into the ocean near the Fukushima Daiichi nuclear plant.
Just under half of Japan's roughly $3 billion in annual food exports comes from seafood, but overseas customers are shunning produce and fish even from parts of the country unaffected by the disaster. The northeast region accounts for around one-fifth of Japan's fishing industry, but the disaster is hitting fishermen nationwide.
Some 18,500 fishing vessels were damaged or lost in northern Japan. In some areas, more than 90 percent of the industry was wiped out, according to an April 1 United Nations report. "The damage to fishing ports has also been severe," said the report. "Considering that agriculture and fisheries are one of the biggest industries in Tohoku Region, reconstruction of these sectors ... will be critical for the reconstruction of livelihoods."
'We have to do whatever it takes'
A 7.4 magnitude quake that shook Japan's northeast late Thursday may further complicate the industry's recovery.
Countries including the US and China have banned imports of certain foods from the radiation-affected areas, and this week India announced it was barring all Japanese-produced food for three months.
---