Fukushima update: Major aftershock hits Japan; cash and safes are washing ashore
One month after the March 11 quake that triggered a tsunami and damaged the Fukushima nuclear power plant, Japanese observed a moment of silence. A 6.6 temblor shook Japan again.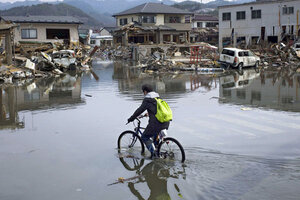 Sergey Ponomarev/AP
This timeline will be updated with the latest nuclear developments in Japan.
Week 5, April 9 - April 11
April 11: It has been exactly one month since a 9.0 earthquake struck the northeast coast of Japan and triggered a 30-ft. tsunami that damaged a nuclear power plant. The country observed a moment of silence for the tens of thousands missing or dead in its worst crisis since World War II. Then, shortly after Japan widened the evacuation area around the damaged Fukushima Daiichi nuclear power plant, another substantial aftershock shook Japan, about 100 miles north of Tokyo. Japan's meteorological agency measured the temblor at 7.0, but a US agency said the quake was about magnitude 6.6. The latest quake halted cooling systems at the plant for about an hour as authorities continued to pump low-level contaminated water into the sea.
Meanwhile, safes that people used at home to store cash and valuables are washing up along the tsunami-battered coast, and police are trying to find their owners. About $350 billion worth of Japanese currency doesn't circulate, according to one estimate.
April 10: Some 2,000 people marched in Tokyo Sunday calling for Japan's nuclear power stations to be shut down. Tepco, the Tokyo Electric Power Company that operates the Fukushima facility, reported that a worker who was placing hoses to collect contaminated water from reactor No. 2 was taken to the hospital but that no radioactive substances were found on his body. He was treated for exhaustion.
---