Long path to recovery for fishermen in Japan's northeast
Millions of people in Japan are restarting their lives after last month's devastating earthquake and tsunami. But they're finding the path to recovery is a bumpy one.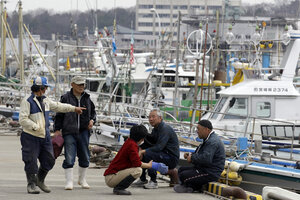 Lee Jin-man/AP
When the 9.0-magnitude earthquake struck off the northeastern coast of Japan on March 11, fisherman Toshibumi Todokoro knew exactly what to do. He rushed to his 5-ton, 42-foot boat, the Daihiki-Maru, and took it as far out to sea as he could get.
The tsunami was 13 feet high when it hurled his boat around in the open water. By the time it had smashed into his home port of Hitachi, it had grown to almost 20 feet. Almost all of the 100 fishing boats from the port – the founding place of the multinational conglomerate that bears its name – made it out.
"All the water drained from the harbor as the ocean pulled back before the tsunami," says Mr. Todokoro. "One boat sank down to the mud of the harbor floor and was then lifted back up as the wave came in."
But while Todokoro's boat was saved, he can longer use it to make a living. The government has banned fishing in Ibaraki Prefecture due to contamination of marine life after radiation from the stricken Fukushima Daiichi nuclear plant was released into the Pacific Ocean.
Indeed, as Tokodoro and millions of people in Japan begin to pick up the pieces of their lives, they're finding the path to recovery is a long one. Delivery trucks for some businesses aren't yet heading to some parts of the affected area, and even for the shops that are up and running, business is slow.
---