Ai Weiwei only the most prominent activist targeted in broad Chinese crackdown
Ai Weiwei is among more than 100 activists to have disappeared, been detained, or confined to their homes in a wave of repression signaling deep anxiety over Arab revolts and the power of the Internet.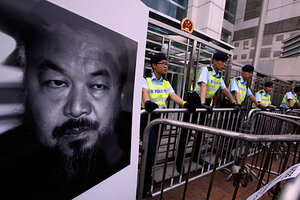 Kin Cheung/AP
The fiercest wave of repression that the Chinese government has launched in more than a decade, targeting lawyers, bloggers, social activists, journalists, and artists, signals a harsh new intolerance of criticism, local and foreign analysts say.
At a sensitive political moment as China's leadership prepares for a transition of power to a new generation, it is aimed at staving off the kind of popular uprising bringing profound change to the Middle East, toppling rulers in Tunisia and Egypt, and threatening others in Libya and Yemen.
And the security forces' blunt disregard for Chinese law – disappearing some victims into secret jails, detaining others without charge, and keeping more under illegal house arrest – shows how far they are prepared to go, in defiance of widespread international condemnation. Although the Middle East is far away, some of the social problems that have sparked unrest there – corruption and vast inequality – are familiar in China, too.
"They are afraid of what has happened in North Africa," says Pu Zhiqiang, a prominent human rights lawyer. "A revolution in China is very unlikely, but the government is used to thinking of worst-case scenarios."
Five famous jailed dissidents in China: Ai Weiwei to Liu Xiaobo
---