Australia takes on the last frontier of cigarette packaging
Australia is proposing the most drastic government attempt yet to reduce smoking, requiring cigarette companies to package their brands in an unappealing drab olive wrapper.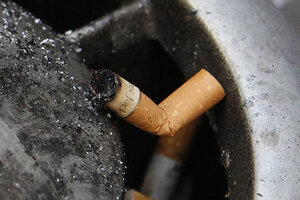 Daniel Munoz/Reuters
Drastic plans by Australia to become the first country to enforce plain packaging for cigarettes could cut smoking rates, and are likely to be emulated by Canada, New Zealand, and Britain, reinforcing Australia's record as a world leader in antismoking measures.
The Australian government has announced draft legislation to outlaw all logos, colors, brand imagery, and promotional text from cigarette packets. The move will "take away the tobacco industry's final capacity to promote its product," says John Daube, professor of public health at Curtin University's Institute of Public Policy in Perth.
Australia has long been at the forefront of the war on tobacco. More than 20 years ago, it was one of the first countries to ban tobacco advertising, and in some states smoking has been illegal in indoor public places since 1999. For the past seven years, cigarettes have been banned from popular beaches, including Sydney's Bondi, and now a ban on smoking in apartment buildings is being considered. Cigarette packs feature graphic health warnings and images of disease.
---