New test for teachers as Japan's schools move to reopen
Schools reopen this week after tsunami-related delays. Japan's teachers are likely to face new demands in helping students and their families move forward.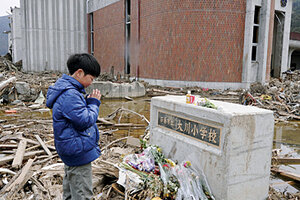 Kyodo News/AP
Kiyo Hiratsuka is on the longest spring vacation of his life. The 12-year-old student was supposed to start middle school on April 8.
Instead, he's spending his time reading comics, drawing cartoons, and playing board games in a classroom in his former elementary school, which he now shares with 312 other Ishinomaki residents left homeless by the colossal tsunami and earthquake that struck Japan last month. School gets a delayed start on April 21, but Kiyo isn't sure if he's excited or anxious.
"I have no idea what it'll be like," he says, slouched on a blanket next to his mother.
For Kiyo and thousands of other kids living in a 250-mile-long swath of northeastern Japan affected by last month's disaster, school has taken on a whole new meaning.
The tsunami slammed the coast on March 11, just as the school day was wrapping up, so many students took refuge inside the sturdy buildings. Some stayed for days, others for weeks.
Teachers became caretakers and classrooms became homes.
Schools and teachers have always played an important social role in Japan, but now they are gearing up as essential actors in helping their students – and their communities – move forward after the disaster.
"In Japan, teachers are expected to counsel students about emotional or behavioral issues and actively interact with families," says Miyoko Ozawa, director of the Sakura Education Research Center in Chiba. Now, she says, that role is crucial to recovery, and it's no easy job.
---