South Korea retools its 'brand' in drive for more tourists
A two-year 'Visit Korea' program is aimed at getting travelers to conjure lava caves and beaches – not Hyundai cars and North Korea nuclear talks – in weighing a visit to South Korea.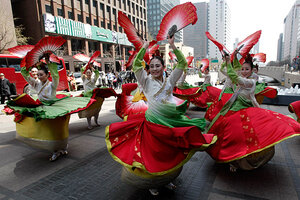 Ahn Young-joon/AP
Not surprisingly, most of the people who make the steep 600-ft. climb up the side of the volcanic excrescence here known as "Sunrise Peak" do so to watch the sun rise over the ocean.
But when I reached the top and looked back over my shoulder at this small island off the coast of South Korea, the view was equally extraordinary. Wherever I looked, there was a volcano. Actually, wherever I looked there were several volcanoes.
The local government, though, is keen to promote Jeju's other charms, from its lava caves to its beaches to its seafood, as it spearheads South Korea's campaign to transform itself into a major tourist destination.
"Visit Korea" is a two-year, government-sponsored promotion currently under way to push another side of the country that many perceive as an emerging industrial behemoth still technically at war with its unpredictable neighbor to the north.
Not necessarily what you might be looking for in a vacation destination.
Polishing South Korea's brand image
"Korea's brand image is not that spectacular," admits Chung Un-an, a former prime minister. Mr. Chung is leading Jeju Island's quest to become one of the "New Seven Wonders of Nature" in an international opinion poll in November, organized by a Swiss foundation.
Locals are optimistic; their island, they point out, is the only place in the world with UNESCO-designated biosphere reserves, world geo parks, and world natural heritage sites.
If Jeju wins, says Chung, "Korea might escape its industrial image. People would understand that we have tried to maintain the beauty of nature." There is nothing South Korea can do to escape its geography, or its hermit neighbor which lobbed artillery shells across the border last November, killing four people.
That attack "caused huge damage to Korea's tourism industry," says Lee Jae-kyong, vice-president of marketing for the Korea Tourism Organization. "Our industry is affected by surrounding factors we cannot control."
---