Japan officially declares no-go zone around Fukushima
More than a month after a devastating earthquake and tsunami sparked Japan's worst nuclear crisis, Japan has made it illegal to come within 12 miles of the Fukushima Daiichi nuclear power plant.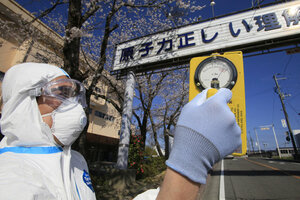 AFP Photo/Getty Images/Newscom
Thursday's decision to declare the area around the Fukushima Daiichi nuclear power plant a no-go zone has compounded the difficulties facing tens of thousands of Japanese forced to leave their homes after the March 11 tsunami, as well as a beleaguered Prime Minister Naoto Kan.
Despite signs of progress in bringing the plant's damaged reactors under control, the government banned residents from entering the 20-kilometer (12 miles) evacuation zone due to concerns about high levels of accumulated radiation.
After midnight on Thursday local time, anyone found entering the area without permission could be fined up to 100,000 yen ($1,220) or detained for a maximum of 30 days. Previously, police had been unable to enforce the evacuation order for the zone, once home to about 80,000 people.
Within hours of the announcement, a steady flow of evacuees rushed back to the homes some have not seen for almost six weeks to collect clothes and valuables before the order went into effect.
None knows when, if ever, they will be able to return permanently. The nuclear plant's operator, Tokyo Electric Power (Tepco), says it will take up to nine months to bring down radiation levels and stabilize the plant.
But the firm and the government have dodged the question of when evacuees might be able to return.
---