Former President Jimmy Carter arrived in North Korea amid hope for six-party talks
Former President Jimmy Carter arrived in North Korea on Tuesday for talks aimed at reducing tensions with North Korea. This trip looks similar to his first visit in 1994.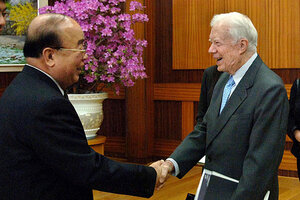 Korean Central News Agency via Korea News Service/AP
Former President Jimmy Carter arrived Tuesday in Pyongyang on a mission that evokes his first visit to North Korea in 1994.
Mr. Carter left Beijing with three other former national leaders, Martti Ahtsarri of Finland, Mary Robinson of Ireland, and Gro Brundtland of Norway. The quartet describe themselves as "elders," and Carter said their goal in two days in Pyongyang was to "help the parties address key issues, including denuclearization."
Carter's mission bears two clear parallels to his 1994 visit with the late Kim il-sung, then leader of North Korea: Carter at that time pressed for dialogue, and North Korea's nuclear program was the central issue.
RELATED Five key people to watch in North Korea
The group hopes to meet with Kim Jong-il, the North Korean who rose to power when his father died three weeks after receiving Carter. Carter missed seeing Kim when he was there last August to bring home an American who had been jailed for entering the country illegally. But the first meeting with Kim il-sung provides a precedent.
---