Oil refinery snub marks arrival of Taiwan's environmental movement
Taiwan has sidelined a proposal for a new factory that would have threatened endangered dolphins, signaling a new priority on environmental considerations.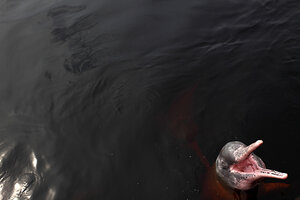 Newscom
About 100 rare pink-hued dolphins still swim off Taiwan's west coast, a steep dropoff blamed largely on pollution from the high number of coastal factories that have driven economic growth at the cost of the environment over the past three decades.
Now, rebuilding the dolphin population is getting priority over building more factories.
In the latest signal that Taiwan is increasingly placing environmental concerns over economic growth, President Ma Ying-jeou of the historically pro-development Nationalist party announced over the weekend that he opposes building a massive petrochemical plant on the west coast that would have further threatened a dolphin population only discovered in 2002.
Think you know Asia? Take our geography quiz.
The president's response, after three years of wrangling over the the $24.1 billion, 300,000 barrels-per-day Kuokuang Petrochemical refinery complex, came after public hearings April 21 and April 22 drew more than 400 people. Project opponents came by the busload to remind the government that it must consider a maturing, expanding environmental movement.
The showdown over the petrochemical plant and the president's condemnation of the project signal that the industrialized island's environmental concerns have reached a critical mass where officials are suddenly factoring in popular sentiment before issuing permits. The refinery's fate is likely to set a tone for future projects that threaten air quality, open space, or wildlife – a shift from decades of fast economic growth that led Taiwan to become one of Asia's four economic tigers in the 1980s along with Hong Kong, Singapore, and South Korea.
---