Rebuilding Japan after the tsunami - one soy sauce business at a time
In one town devastated by the tsunami, some 400 temporary housing units and a soy sauce business offer hope. But some 4,000 more units are needed.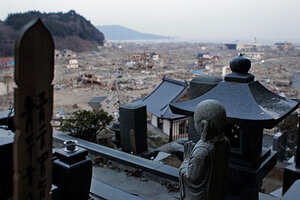 Sergey Ponomarev/AP
"I'm Kono of Yagisawa Shoten." The baritone delivery is confident, and accompanied by a smile that belies a tragedy repeated countless times along Japan's northeast coast.
As his hometown of Rikuzentakata, in Iwate prefecture, comes to terms with the deaths of more than 2,000 people and the loss of 80 percent of its homes, Michihiro Kono hopes to rebuild his historic soy sauce business and instill hope in fellow residents.
The recent construction of the first temporary housing units is a sign the town is looking forward, but the rehousing effort is expected to take months to complete. Kono has been president of Yagisawa Shoten for less than a month, having asked his father's permission to take over the family firm following the disaster. His goal is to guide the business – and the community surrounding it – through the most tumultuous time in its 207-year history.
The plant where nine generations of his family have made premium soy sauce and miso, staples of the Japanese diet, lies in ruins. All that is left is a pressing machine, which still gives off the smell of soy sauce, mixing in the air with that of rotten debris and seawater.
But outside the prefabricated hut on higher ground where Kono and his 45 employees are regrouping, stand several dozen full bottles of his signature product retrieved from the rubble.
---