Why Singapore's ruling party suffered historic setback at polls
Voter dissatisfaction is high over rising inequality and the high cost of living. For the first time, opposition candidates contested virtually every seat in parliament.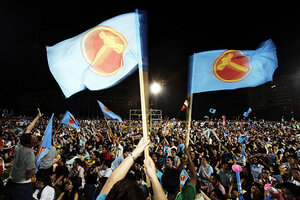 Tim Chong/Reuters
Singapore's ruling party suffered its worst-ever election result since independence in 1965 as youthful opposition parties tapped voter anger over high living costs and rising inequality in the wealthy city-state.
Unofficial results showed the opposition had garnered around 40 percent of 2 million votes cast in Saturday's election. But the first-past-the-post parliamentary system – modeled on that of Britain, the former colonial power – ensured that the ruling People's Action Party (PAP) retained firm control, with 81 out of 87 seats.
For the first time, opposition candidates contested virtually every seat in parliament. They also used social media and the Internet to provide an alternative to state-controlled newspapers. Opposition rallies attracted large boisterous crowds during the campaign period, which lasted just under two weeks.
Speaking late on Saturday, Prime Minister Lee Hsien Loong struck a contrite note in response to the election upset. "Many Singaporeans wish for the government to adopt a different style and approach," Mr. Lee said. "We hear your voice. The PAP will learn from this election and put right what is wrong."
In the most closely watched race, the Workers Party won a multimember constituency by fielding a Harvard-trained lawyer against Foreign Minister George Yao, the lead PAP incumbent, who lost his seat. In previous elections, opposition parties have struggled to recruit top-caliber candidates, in contrast to the PAP's well-oiled recruitment system.
---
Follow Stories Like This
Get the Monitor stories you care about delivered to your inbox.