Thailand election: A high-stakes contest in a shaky democracy
The first Thailand election since 2007 will be held July 3. The chance for violent clashes has spurred academics and peace activists to propose a pre-election 'code of conduct.'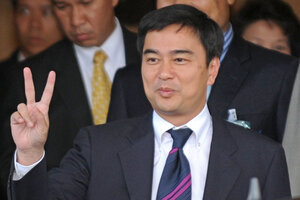 Pornchai Kittiwonsakul/AFP Photo/Newscom
Thailand's government today said it would hold national elections July 3, setting the stage for a high-stakes contest between bitter political rivals in a shaky democracy polarized along class and regional lines.
Prime Minister Abhisit Vejjajiva on Monday announced the dissolution of parliament in a televised address after Thailand's ailing monarch endorsed the election plan. "I want to see this country move forward," Mr. Abhisit said.
It would be the first election since 2007, when Thailand was under military rule. Abhisit was installed a year later with military backing after the collapse of a popularly elected government and has struggled ever since to assert his legitimacy to lead a divided country.
RELATED Thailand's political stalemate deepens
Abhisit's Democrat Party broadly enjoys the support of voters in Bangkok and southern areas but is less popular in the hardscrabble north and northeast. In these areas, allies of former Prime Minister Thaksin Shinawatra are expected to capitalize on anger over the violent military crackdown last year on anti-government demonstrations that killed at least 90 people. Mr. Thaksin, who lives in exile in Dubai, was ousted in a 2006 coup and later sentenced to jail for abusing his power, but remains formidable.
A spate of opinion polls have suggested that the pro-Thaksin Pua Thai Party would win the largest representation in the 500-seat parliament, though a significant number of voters identified themselves as undecided. Still, no party is expected to win an overall majority, so a coalition is the most likely outcome.
---