Why Australia just toughened its tough immigration stance
Riots at Australia's immigration detention centers have pushed Prime Minister Julia Gillard's government to take new measures on asylum-seekers. But critics say they don't target the fundamental reasons for the unrest.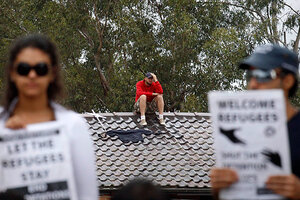 Tim Wimborne/Reuters
Riots and unrest at Australia's immigration detention centers have piled pressure on Julia Gillard's minority government, forcing her to adopt a raft of new measures including a "refugee swap" with Malaysia and negotiations to reopen a mothballed facility in Papua New Guinea.
The steps have prompted accusations from critics that the Labor government is copying the policies of the former conservative prime minister, John Howard, who gave Australia an international reputation for taking one of the hardest lines on asylum-seekers – although the numbers coming here are minuscule compared with those arriving in the US and Europe.
Under a deal struck with Kuala Lumpur, Australia will send 800 "boat people" to Malaysia for processing by the United Nations. In return, it will accept 4,000 mainly Burmese refugees currently in Malaysia awaiting resettlement. The aim is to deter asylum-seekers from making the journey to Australia via Indonesia, but the plan has been attacked by refugee and human rights groups, including Amnesty International.
---