Academic freedom under fire in royalist Thailand
A history professor in Thailand says Thailand is about to press criminal charges for calling for an end to the monarchy. He's the latest public figure to be accused of violating Thailand's strict lèse-majesté laws.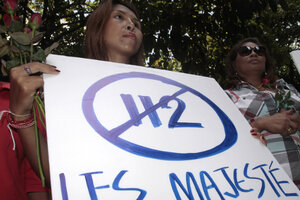 Sakchai Lalit/AP
An outspoken historian is facing the threat of a criminal trial for his writings on the Thai monarchy, spurring an international appeal by scholars for the protection of academic freedoms in Thailand.
Somsak Jeamteerasakul, a history professor at Thammasat University in Bangkok, has accused the Thai military of forcing the government to prosecute him under a century-old royal defamation law. He said that he had received an anonymous phone call that said he would be arrested soon.
Mr. Somsak is the latest public figure to be accused of lèse-majesté, a crime that carries a potential 15-year jail term. Dozens of cases are pending against politicians, activists, and journalists accused of defaming King Bhumibol Adulyadej, the constitutional ruler, and his family, who are typically shielded from public scrutiny.
Thailand is far from the only country that jealously guards the reputation of its heroes. A new US-published biography of Gandhi that touched on his sexuality met an angry reaction in India. In recent years, Russian scholars writing critically on Stalin have faced similar constraints.
---