IAEA criticizes Japan's Tepco for underestimating tsunami threat
An International Atomic Energy Agency report Wednesday said it was the tsunami that followed the March 11 earthquake that damaged the Fukushima Daiichi nuclear power plant.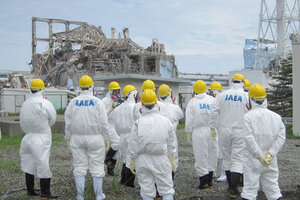 Tokyo Electric Power Co./Reuters
Japan's nuclear power industry is under pressure to improve safety after international inspectors criticized the Fukushima Daiichi nuclear power plant operators.
In a preliminary report issued Wednesday, the International Atomic Energy Agency (IAEA) said Tokyo Electric Power (Tepco) had underestimated the tsunami hazard, despite warnings that a huge wave could breach the plant's 5.7-meter protective wall.
The waves that crashed into the nuclear power complex following the March 11 magnitude-9.0 earthquake were more than 50 feet tall.
The 18-member team, led by Britain's chief nuclear safety official Mike Weightman, backed Tepco's claims that the damage had been inflicted by the tsunami, not the earthquake that preceded it as some reports had suggested earlier.
"In terms of the cause it is clear – the direct cause was a tsunami, associated with an earthquake, of tremendous size," Mr. Weightman told reporters in Tokyo.
Japan's nuclear power industry, reeling from the Fukushima accident and a loss of public and government enthusiasm for new nuclear plants, will find it difficult to ignore the IAEA's findings. Inspectors called for the nuclear industry to take a more active role in prevention of such disasters going forward: "Nuclear plant designers and operators should appropriately evaluate and provide protection against the risks of all natural hazards."
---
Follow Stories Like This
Get the Monitor stories you care about delivered to your inbox.