As China rises, Asia eyes better channels for security talks
The visit by Secretary of Defense Gates to Singapore highlights Asia's lack of a strong forum for regional security talks. Asian countries are also wary of being squeezed between the US and a rising China.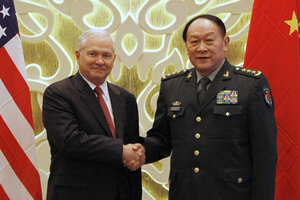 Jason Reed/Reuters
Despite a proliferation of global summits, the annual Shangri-La Dialog that ended Sunday in Singapore has become an essential stop for military chiefs in Asia and beyond. US Defense Secretary Robert Gates, on his final Asian tour, addressed the forum, as did his Chinese counterpart Liang Guanglie, who defended China's military buildup.
But the forum's success is partly a reflection of the creaky foundations for security cooperation in Asia. Organized by the Institute for International Strategic Studies in London, the Shangri-La Dialog has become an unofficial gathering of Asia's top brass and intelligence officials and those of outside powers like the US, Britain, and Russia. Mr. Gates and Mr. Liang held a bilateral meeting, one of several conducted on the sidelines.
Security analysts point out, however, that Asia still lacks an effective forum for multilateral diplomacy on regional security issues, such as the disputed South China Sea and North Korea's nuclear proliferation. A lack of a such a forum could make it more difficult to head off conflicts in a region with rapidly expanding militaries and unsettled political conflicts.
---