China's new independents tap social media to challenge Communist party
About 80 independent candidates for local Peoples' Congresses are using the power of social media in China to challenge the Communist party's lock on political office.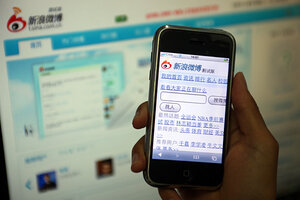 Wang Jing/Picture Alliance/ANN/Newscom
As local government elections get underway nationwide in China, a new breed of independent would-be politician is emerging to challenge the ruling Communist party's near total stranglehold on political power.
Harnessing the mobilizing power of social networking websites for the first time and attracting unprecedented attention to themselves, these candidates for local Peoples' Congresses are posing a dilemma for the government.
"There appears to be some uncertainty and debate at the upper echelons [of government] about how to deal with this," says Russell Leigh Moses, author of an upcoming book on the changing nature of power in China.
Some of those putting themselves forward as candidates, such as popular blogger Li Chengpeng, seem likely to be thorns in the authorities' side. "You will never know the benefit of standing up if you always stay on your knees," Mr. Li declared in a combative campaign statement he sent out to his 2 million followers on Sina Weibo, a Twitter-like microblog.
Others seem to be simply asking for a chance to participate in a system that has almost always excluded citizens who are not members of the Communist party. "I want public opinion to be translated into public policy," says Xu Yan, a young advertising executive in the eastern city of Hangzhou, explaining why he is hoping to be a candidate in his local elections later this year.
Denied ballot space
---