South Korea shooting mishap highlights heightened tensions with North
South Korean marines mistakenly fired on a passenger jet owned by Asiana Airlines on Friday. They thought it was a North Korean fighter jet.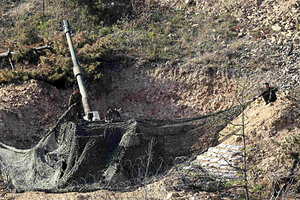 Jin Sung-chul/Yonhap/Reuters
For ten minutes at dawn on Friday, two young South Korean marines fired repeatedly at a low-flying plane they believed was a North Korean fighter.
The shots all fell short, and the plane turned out to be a passenger jet owned by Asiana Airlines, one of South Korea's two major carriers, on final approach to Incheon International Airport, opened ten years ago as the main gateway into the country.
"This is a small happening," says Song Hye-jung, a senior reservation manager at Asiana. "They only have small guns, so they cannot reach the plane."
The episode, however, highlights heightened tensions in a region of long-running confrontation, including two attacks last year in which 50 South Koreans were killed. South Korean forces are building up on five or six islands in the Yellow Sea within sight of North Korea's southwestern coast, primed to deter a repeat of the attack in November in which two marines and two civilians were killed in an artillery barrage on Yeonpyeong Island.
"The marines there are on high alert," says Kim Tae-woo, senior research fellow at the Korea Institute for Defense Analyses. "Right after Yeonpyeong Island, there was a drastic strengthening of arms. Now our joint chiefs of staff are establishing long-range plans. There will be an intensification of plans."
Missile tests
---