90 years of China's Communist Party: from secret society to 'harmonious society'
China's Communist Party has transformed from the secretive, illegal revolutionary force that it was 90 years ago to a political party at the helm of a rapidly changing China.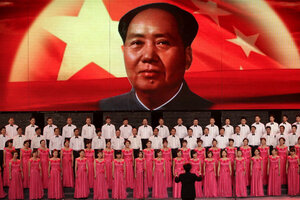 Jason Lee/Reuters
Three days before she was to be admitted as a full member of the Chinese Communist Party in early June, graduate economics student Li Yingzi was blunt about her reasons for wanting to join the ruling party.
"It's a good idea so as to ensure a better future for myself," she explained. "It will be easier if I want to become a civil servant … because membership in the party will show my loyalty."
That is an attitude that Yang Jisheng, a veteran party member, finds deeply disappointing. When he joined the party in 1964, he recalls, "I wanted to devote myself to social justice. The party stood for justice and equality and for ordinary people suffering hardship."
But as the Communist party celebrated its 90 year anniversary on July 1, it is a very different animal indeed from the secretive, illegal group that 13 Chinese revolutionaries including Mao Zedong founded in Shanghai in 1921 at their first national congress.
"The party has the same name as before, but the old party was destroyed," says Sidney Rittenberg, an American who joined Mao's forces in 1946 and remained a party member for 33 years. "It used to be a moral presence representing a vision of the future and a set of ethics for today. You don't have either of those anymore."
---